Best Bachata Private Dance Classes in Dubai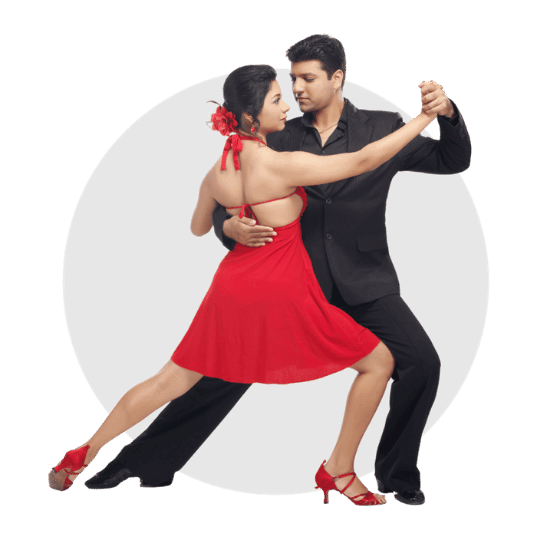 Do You want to learn to dance the Bachata? Are you looking for flexible timings due to a hectic work schedule? In short, if you're looking for the best bachata private dance classes in Dubai then you have arrived at the right place.
We offer customised courses in our private dance sessions. These are one to one classes with the instructor. You can learn alone or with a partner, the prices remain almost the same.
We have both male and female instructors to dance and teach the Bachata. If you are coming alone you get a partner to dance with as well as an instructor of the same gender to teach you the dynamics that you will require to dance with ease.
The bachata private dance classes are customised completely. So the timings are flexible to suit your needs. We are open all 7 days. You learn at your own pace and at a level best suited for you.
Things You'll Learn in Bachata Private Dance Classes Dubai:
A strong beginner level foundation on footwork, musicality, lead and follow
Intermediate groups
Dance an intermediate level routine to a song
Ladies styling at an inter level
1. What are the timings of Bachata Private Dance Classes Dubai?
The timings of bachata private dance classes are flexible, so you don't have to worry about it. We are open 7 days a week 10 am – 10 pm. So, come along with your partner and get started to dance with us today!
2. What is the Package Rate for Bachata Private Dance Classes Dubai?
The package rate of bachata private dance classes in Dubai is 2500 Dihrams for 10 sessions
* conditions apply
3. How We Can Contact For Bachata Private Dance Classes?
You can call us on 0556832395 to book a free consultation with our instructors. Also, you can connect with us to solve all your doubts related to dance classes without any trouble.
So, what are you waiting for? Connect with us for bachata private dance classes and you'll learn numerous amazing steps to learn the Bachata with ease.
Frequently Asked Questions
Register for a Demo Class

kshitij nigam
Awesome place intensive training sessions , super teachers, a must go in case u are serious about learning and competing in international dance sport events
Sajit Mittal
Have been taking the intensive Latin competitive class for over 8 months now. It is really good. Your body posture and internal muscles also improve along with your dancing.

Lav Singhania
Wow! Better than I hoped. Thoroughly enjoyed. Highly recommended for couples who wanna boost their chemistry. The personal attention is highly appreciated.

Ritika S
VR Dancesport is a great place to learn authentic latin dance forms. Teachers are amazing and I've been having a great time here!

Aditi Choudhary
I am glad to learn from Rajeswari ma'am and Shanon sir. It been a wonderful experience. They not only focus on teaching you the right moves but also on your stylization and body language.