Salsa Private Dance Classes in Dubai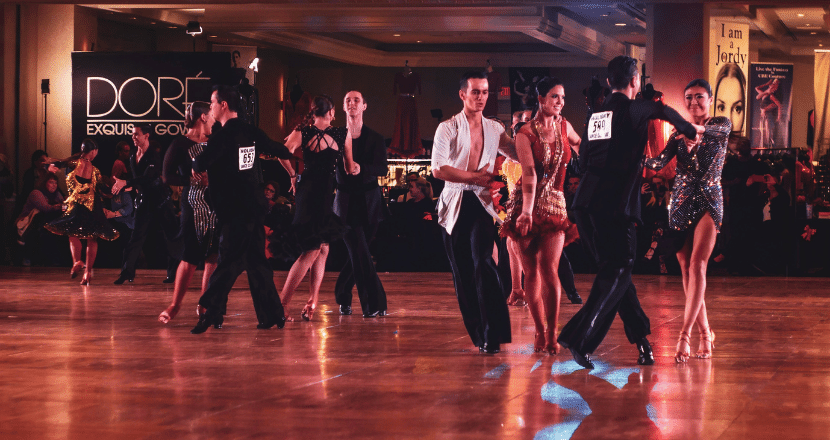 Salsa is a one of the most popular Club dance styles. It has its roots in the Cuban Salsa Rueda. Salsa became famous around the globe as On1 Style also known as LA Style and On2 style also known as NY Style.
Being a Club dance form, Salsa, helps you socialise and meet new people.
Unlike pure Latin Ballroom forms your footwork has to be smaller and more relaxed. For the follower Salsa is a lot about turns and stylising.
With Shannon and Raj you can opt to learn the most common style of Salsa Private Dance Classes, The LA Style or choose to learn Salsa Rueda or the Cuban Salsa.
Being a private class the lessons are customised based on your pace of learning, what you set as a goal by the end of the 10th class package. It can be a beautiful choreography for a wedding, a gift for your loved one or just to learn the dance form well.
Typically for an average learner you are able to move to an intermediate level of dancing with precision by the 10th class.
Private Dance Sessions Starts Form -
From the very beginning, apart from musicality, you will be taught how to lead well ,with clear accurate directions, counts and body movements,  that will help you make your learning faster.
We strongly believe, to be able to social dance, you need to be equipped to  lead and follow well, look different and more experienced than you really are, and that's what we focus on.
We slowly and steadily progress you to more complex movements and get you comfortable with different permutation combinations.
You may come alone or with your partners as we have both lady and men trainers to give you a dual perspective.
We offer Private Dance Classes in convenient locations. We have several attractive offers to suit your needs. 
Call us on +971 556832395 to know what would be best customised for you.
FOR SALSA PRIVATE DANCE LESSONS ENQUIRY
What will you learn in Salsa Private Dance Classes
You will learn to have a strong foundation in the following:
Each Private Class is of 1 hr and while you can book a single class a package of 10 is the best recommended for your pocket as well as for an effective learning experience.
Time and Dates to be discussed with the instructor.
Rates – Competitive and customised.
What are the benefits of Salsa Private Dance Classes
Each Private Class is of 1 hr and while you can book a single class a package of 10 is the best recommended for your pocket as well as for an effective learning experience.
Frequently Asked Questions
What do I need to wear for the dance sessions?
You can wear anything comfortable.


Do I need Dance shoes for salsa private dance classes?
Preferably yes and we help you get good quality customised shoes at reasonable cost (350 AED). However, we dont advise you to invest till you wish to dance for a few months, in that case just carry socks to help you swivel and not injure yourself. You can dance in your regular shoes but thats at your own risk. 


What about the safety measures in salsa private dance classes?

We are vaccinated. Masks and sanitisers are compulsory. If you are not feeling well and just travelled pls inform the instructor and reschedule.

Nick Bueckle
We're now 2 sessions in and made More Progress than I would've expected. Shannon & Raj are giving their best to help us improve. We're always excited to join the classes because it's a lot of fun! I can only recommend to do this...the value you're getting here is amazing and you can truly feel that they want you to see make fast progress! Love it! 5 starts!!! 🙂

Sam Fold
Shannon and Raj are both super lovely people and great teachers. I've only been learning with them for a short time and feel like I've improved a lot in that period. I was slightly hesitant at first but they made me feel comfortable and now I feel much more confident. The classes are fun and we always end up having a laugh and I look forward to my lessons. Recommended!

Jing Li
Very patient and experienced dancing coaches! I enjoy the music and atmosphere there. In general the experience is super relaxing, and l learnt to discover the other side of myself there! Highly recommend

Ilona Win
Очень хорошие и терпеливые преподаватели. С пониманием относятся к студентам. Замечают ошибки и тщательно работаю над тем движением, которое не получается. (Translated by Google) Very good and patient teachers. They treat students with understanding. I notice mistakes and work carefully on the movement that does not work.

Nuria Ramirez
Shannon and Raj are very good professionals. I learnt a lot of Bachata in a short period of time. They are very patient and have great teaching skills. They are very warm and welcoming. I definitely recommend them for any level of Bachata and Salsa.